Alpha Health Malaysia in the News: New Mother Recommends Cesarean Support Garment
February 26, 2013: Authored by:
Alpha Health Asia Staff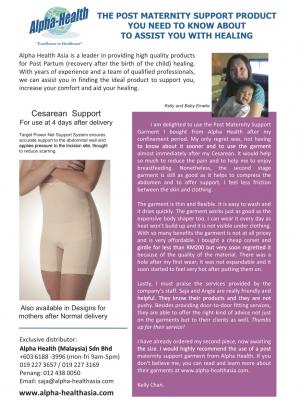 Alpha Health Malaysia is in the new again with the Post Maternity Cesarean Support Garment- another new mother has recommended the garment after wearing it and recommended the fitting service. The comments from the new mother are listed below, the article is show in the picture.
"I am delighted to use the Post Maternity Support Garment I bought from Alpha Health after my confinement period. My only regret was, not having to know about it sooner and to use the garment almost immediately after my Caesarean. It would help so much to reduce the pain and to help me to enjoy breastfeeding. Nonetheless, the second stage garment is still as good as it helps to compress the abdomen and to offer support. I feel less friction between the skin and clothing.
The garment is thin and flexible. It is easy to wash and it dries quickly. The garment works just as good as the expensive body shaper too. I can wear it every day as heat won't build up and it is not visible under clothing. With so many benefits the garment is not at all pricey and is very affordable. I bought a cheap corset and girdle for less than RM200 but very soon regretted it because of the quality of the material. There was a hole after my first wear; it was not expandable and it soon started to feel very hot after putting them on.
Lastly, I must praise the service provided by the company's staff. Saja and Angie are really friendly and helpful. They know their products and they are not pushy. Besides providing door-to-door fitting services, they are able to offer the right kind of advice not just on the garments but to their clients as well. Thumbs up for their service!
I have already ordered my second piece, now awaiting the size. I would highly recommend the use of a post maternity support garment from Alpha Health. If you don't believe me, you can read and learn more about their garments at www.alpha-healthasia.com "
Kelly
---
About the Author

---
---