Oxygenetix Question & Answer
July 26, 2013: Authored by:
Alpha Health Asia Staff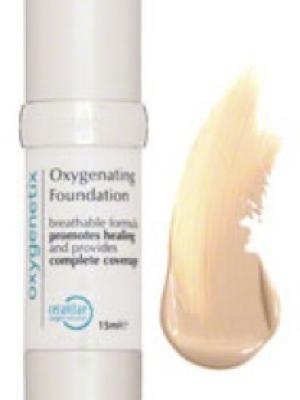 Q: What does Oxygenetix do?
A: Oxygenetix is a camouflaging foundation applied immediately post treatment to reduce redness, calm and protect the skin while facilitating recovery and healing. Oxygenetix is applied immediately following procedures such as CO2 lasers, skin resurfacing, microdermabrasion and scar revision, you can now leave a clinic with your skin protected and the treatment concealed.
Q: What procedures can Oxygenetix be used after?

A: Oxygenetix can be used after: CO2 Laser - Rhinoplasty - Laser Hair Removal -Acne/Rosacea Treatments - Facial Surgery Bruising - Scar Revision - Skin Resurfacing - Injectables - Eye Surgery - Dermabrasion - Chemical Peels.
Q: Will Oxygenetix Protect My Skin from Bacteria after a laser treatment or skin resurfacing?
A: Yes, Oxygenetix contains a natural Aloe Barbadensis Gel base with anti bacterial properties, no heavy oils, alcohols or added water
Q: Does Oxygenetix have SPF?
A: Yes, Oxygenetix has a 25 SPF to protect your skin from the sun while you are healing and help protect you
Q: Why should I use Oxygenetix?

A: Oxygenetix is the only oxygen treatment, air permeable make-up on the market. It will make your patients look great while they are recovering. It promotes healing & keeps skin looking young and beautiful.
Q: Can people with sensitive skin use Oxygenetix?

A: Oxygenetix is safe for every skin type; including post procedural and sensitive skin. It soothes and promotes healing of skin and doesn't irritate or cause break-outs.
Q: How long can Oxygenetix be worn each day?
A: Oxygenetix can be worn 24 hours a day to protect the skin, it should be applied every morning to receive the benefits of the oxygen transfer and the protection provided by the SPF and anti-bacterial. Oxygenetix is safe for every day use- you can continue to wear Oxygenetix until you have fully recovered, and beyond
Q: Is Oxygenetix Water Resistent?
A: Oxgenetix is water resistant and stays on until it is removed, each time you clean and washes your face, re-apply Oxygenetix after
Q: Has Oxygenetix been tested?

A: Yes, Oxygenetix has been tested by physicians and their patients.
Q: What is Ceravitae? What does it do?

A: Ceravitae does the "heavy lifting when it comes to proliferating young, fresh and plump skin cells, by delivering high amounts of oxygen. This aerobic effect helps to make those vital productive cells work harder.
Q: Can Oxygenetix be used as an everyday make-up?

A: Yes, Oxygenetix was formulated for post-operative healing and full, undetectable coverage, continued use promotes youthful, healthy skin through oxygen driven cellular turnover in a breathable, second skin formula.
Q: What does Oxygenetix Contain?
* Natural Aloe Barbadensis Gel base with anti bacterial properties, no heavy oils, alcohols or added water
* Non-Comedogenic- it won't clog pores
* Oil-Free
* Fragrance Free
* Organically certified ingredients
* Contains SPF 25
* Not drying - allows retention of natural fluids - even following aggressive resurfacing.
* Hypoallergenic- less allergic reactions than with other cosmetics
* Non-irritating to sensitive skin- safe to use it after most cosmetic procedures
Q: Where is Oxygenetix Made?
A:In the USA, in a company owned, FDA approved manufacturing facility.
Q: What are the differences between Oxygenetix and Lycogel?

A: Formulator and product designer, Barry Knapp, created both products. Lycogel was ground breaking and proved to be a huge success when brought to market back in 2001.
Mr. Knapp parted ways with Lycogel when the company changed his original formula simply to lower production costs without consideration of the benefits the removed ingredients had provided. Today Mr. Knapp introduces Oxygenetix, the culmination of his years of research and listening to doctor and patient input.
---
About the Author

---
---