Polyurethane Foam Cohesive Silicone Gel Breast Implants and Capsular Contracture
June 7, 2013: Authored by:
Alpha Health Asia Staff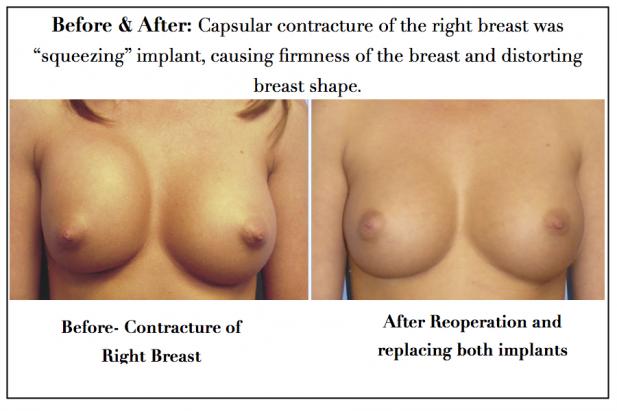 Capsular Contracture- the #1 Cause of Reoperation
Capsular contracture is the hardening of tissue around the breast implant; it is the most common reason for re-operation following a breast augmentation or breast augmentation revision. The scar tissue that normally forms around the mammary implant will form a capsule, this capsule may tighten or squeeze the implant resulting in capsular contracture.
Capsular contracture is measured in terms of Baker Grades, with grades 1 & 2 not defined as a severe capsular contracture while grades 3 & 4 describe the breast as firm, abnormal looking, hard and painful.
The cause or event that leads to a Baker grade 3 or 4 capsular contracture is not completely know but hematoma, seroma and infection have all been studied as an indicator of possible capsular contracture or a cause. Capsular contracture happens over time, Dr. Neal Handle found the risk of capsular contracture does not decrease with the time from implantation.
The rates of capsular contracture vary according to implant surface type (smooth, textured or Polyurethane foam) and surgical indication- primary augmentation has a lower rate of capsular contracture than revision augmentation or breast reconstruction.
How Common is Capsular Contracture?
Common. If a condition causing re-operation occurs in at least 8 out of 100 patients within 3 years of the surgery, would that condition be considered common? What if a condition caused re-operation in 15 out of 100 patients within 7 years?
Primary Augmentation Data
The rate of Baker grade 3 or 4 capsular contracture after a primary augmentation has been reported (footnote 1, 2) in smooth and textured silicone mammary implant studies- accepted by the USA FDA- at 8.1% three years after implantation and 15.5% at seven years after implantation.
Capsular Contracture with Polyurethane Foam Implants and a Comparison with Smooth & Textured Implants
Consulting our local market data and long term studies proved- polyurethane foam covered silicone gel breast implants deliver the lowest rate of capsular contracture of any implant surface.
- Working with Singapore based Dr. Marco Faria Correa, we have not had any reported cases of capsular contracture in the 120+ cases he has conducted in Singapore.
- Dr. Vazquez led an extensive study (footnote 3) of Polyurethane-coated silicone gel breast implants published in 2007 and found a capsular contracture rate of 1%; this study involved 1,257 patients with a post operative follow up over a span of 15 years.
- From Dr. Neal Handle (footnote 4): "Our findings further substantiate previous reports on the superiority of polyurethane foam–covered implants in reducing the risk of contracture compared with smooth or textured implants. At the end of 10 years of observation,among patients for whom data were available, 75percent of those with polyurethane implants remained contracture free compared with 65 percent with either smooth or textured implants. In all categories considered—augmentation, revisional surgery, and breast reconstruction—polyurethane implants proved superior regarding reduction of contracture. These findings confirm earlier reports on the benefit of the polyurethane foam in reducing the incidence of contracture and document the long-term duration of this effect. "
Dr. Handel conducted a comprehensive study that included a total of 3,495 implants consisting of smooth, textured, Polyurethane foam over a period to 25 years. The implants and their use from his study (footnote 4):
The study (footnote 4) found the following Baker Grade 3 or 4 capsular contracture rate by implant type:
- Smooth- 3.85
- Textured- 3.23
- Polyurethane Foam: 2.19
Statistically the rate of capsular contracture with Polyurethane foam implants is much lower when compared with textured and smooth implant surfaces.
His results included the findings that Polyurethane foam implants provided the highest chance of remaining capsular contracture free over time. The following chart details the percentage of patients remaining contraction free over time:
The Guillermo Vazquez, M.D. and Andreas Pellon, M.D. study (footnote 3) published in 2007 involved 1,257 patients, following 300 for 5 years (clinical controls every 3 months), with 250 patients being followed for 10 years and 180 for 15 years.
The results of their study: Using the Baker classification of capsular contracture, we found an approximate 1% incidence of fibrous capsular contraction. With regard to complication, we found rates similar to those reported in our first article: hematoma (1.2%), seroma (2%), and infection caused by Staphylococcus epidermidis (three cases). No cases of late seroma were observed with the use of these prostheses.
Some Conclusions from these studies:
Dr. Handle's Conclusion (footnote 4): "Polyurethane foam–covered implants are associated with a dramatically reduced rate of contracture for at least 10 years following implantation. Polyurethane implants do not appear to increase the risk of other complications such as infection or rupture. Textured implants do not afford significant protection against contracture and are associated with an increased risk of wrinkling and waviness and a higher rate of saline implant deflation."
Dr. Fleming's Comments (footnote 5): "I have used these implants for more than 5 years in both primary and secondary patients. In the last 18 months I have used them in more than 500 patients and now use them exclusively. They are not a panacea but I have yet to see my first capsular contracture. I have had one unilateral downward displacement which occurred the day after the surgery presumably due to over dissection of the pocket on my part combined with suture breakage. I have not seen the insidious slight downward displacement over time which detracts from the final long term results with non foam implants. Other complications have occurred with the same incidence as with other implants. In short, my results have simply mirrored the results of surgeons overseas who have used these implants for longer than me."
Footnotes:
1. Inamed Directions for Use NATRELLE® Silicone-Filled Breast Implants Smooth & BIOCELL® Texture http://www.allergan.com/assets/pdf/L034-03_Silicone_DFU.pdf L034 -07 12/09
2. Mentor MemoryGel Silicone Gel-FIlled Breast Implants Product Insert Data Sheet. http://www.mentorwwllc.com/Documents/gel-PIDS.pdf 102927-001 Rev. B Effective August 2010
3. Vazquez G. Polyurethane-Coated Silicone Gel Breast Implants Used for 18 Years. Aesthetic Plastic Surgery 31:330-336, 2007
4. Handel N. Long-Term Safety and Efficacy of Polyurethane Foam-Covered Breast Implants. Aesthetic Surgery Journal May/June 2006
5. Fleming D. The case for polyurethane foam covered silicone gel breast implants. Self published 2009: 1-11
---
About the Author

---
---