Post Laser Skin Treatment for Calming, Healing and Concealing
July 2, 2013: Authored by:
Alpha Health Asia Staff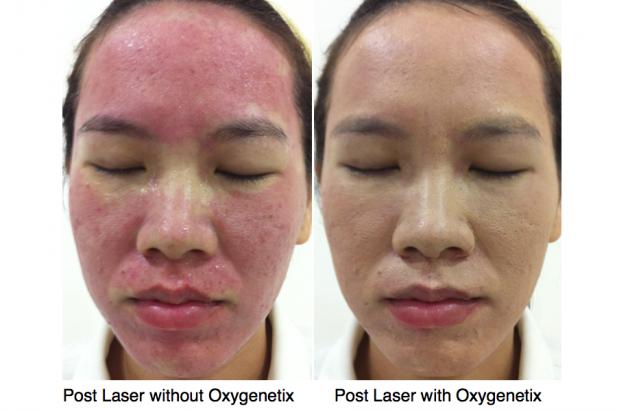 Laser treatments, such as a fractional Co2 laser, are very effective for reducing facial wrinkles, scars and pigmentation. Following a facial laser treatment, your skin will be very sensitive and needs to be protected during healing; make-up cannot be worn immediately following a facial laser treatment as it can clog pores and slow the healing process.
Oxygenetix is breathable foundation applied to post treatment sensitive skin, it is applied immediately after Co2 laser treatments, skin resurfacing, dermabrasion and scar revision. Oxygenetix calms and protects the skin while 'camouflaging' and concealing red and sensitive skin. Oxygenetix is fully breathable, 100% certified organic and contains SPF for protection.
Oxygenetix should be applied immediately following a facial laser treatment to calm and sooth the skin, conceal redness and protect the skin from the sun and harmful pollution and bacteria. Oxygenetix can be worn 24 hours a day and will stay on until it is removed.
The patient shown in the picture was treated with a Laser Exelo2 fractional laser at A-Au clinic. A-Au is a leading clinic in Ho Chi Minh City that specializes in laser treatments and aesthetic procedures. A-Au is using Oxygenetix on patients that have Co2 facial laser treatments and dermabrasion.
More about Oxygentix:
Oxygenetix is made from a natural Aloe Barbadensis Gel, is oil and fragrance free, non-irritating and hypoallergenic. Oxygenetix does not clog pores, but uses patented Ceravite to facilitate oxygen transfer to the skin. Oxygenetix is made in the USA in the company owned FDA licensed laboratory.
A Au clinic is located in Ho Chi Minh City, more information about the clinic and the treatments they provide can be found here: http://benhvienthammyaau.vn
---
About the Author

---
---