Profile # 120712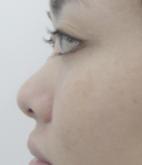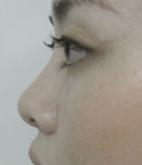 | | |
| --- | --- |
| Area of Body | Nose |
| Procedure Performed | Increase Nose Projection and Profile with Aquamid Filler |
| Product Used | Aquamid Reconstruction |
| Gender | Female |
| Age | |
| Height | |
| Weight | |
Pre-Operative
Patient unhappy with the profile and projection of their nose, namely at the top of the nose bridge as the patient did not feel there was definition of the nose between her eyes.
Post-Operative
The profile of the nose was increased to add projection and volume while maintaining a natural look- the nose bridge was augmented by injecting Aquamid with the primary injection site at the top of the nose bridge. The patient was very pleased with the result of the injection, the after pictures were taken 2 days after the injection.
Description
1 syringe of Aquamid Reconstruction was injected along the bridge of the nose to increase the profile of the nose, the majority of the Aquamid filler was injected at the top of the nose bridge. A helpful method of meaning the before and after result is to view the projection of the nose compared with the patients eyelashes, the amount of projection added with the injection can be very easily seen when using the eyelashes as the point of reference in the before and after.
Doctor Information
Aquamid Filler injection performed during Alpha-Health Asia's Advanced Injector Training Course in Ho Chi Minh City Vietnam
---