Profile # 181212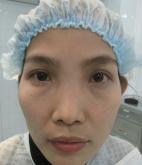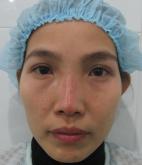 | | |
| --- | --- |
| Area of Body | Nose |
| Procedure Performed | Nose Augmentation with Aquamid Filler |
| Product Used | Aquamid Reconstruction |
| Gender | Female |
| Age | |
| Height | |
| Weight | |
Pre-Operative
The patient had previous had a closed surgical rhinoplasty (nose augmentation) with a silicone implant being inserted into the nose. The silicone implant was not a success as the implant was not secure on the upper portion of the nose bride (between the eyes); the implant 'floated'. The implant was removed 6 months before Aquamid was injected.
Post-Operative
The after picture was taken immediately after the Aquamid Reconstruction filler was injected, the result was evaluated as 'excellent' by the patient as the Aquamid added shape and profile to the nose bridge area. There was significant scar tissue found during the injection, the scar tissue was the result of the prior implantation and removal of the silicone nasal implant.
Description
Just under 1ml (1 pre-filled Aquamid Reconstruction syringe) was injected, the injection was completed in just under 30 minutes.
Doctor Information
This case was performed during Alpha Health Asia's injector training in Ho Chi Minh City, Vietnam.
---