Facial Implants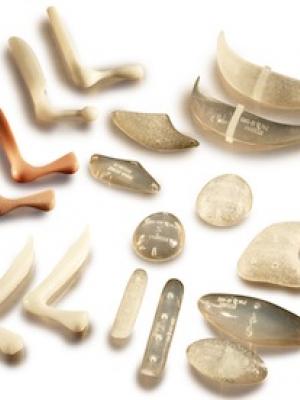 Facial implants can be used for aesthetic and reconstructive surgery on a number of areas of the face, primarily the front of the cheek bone, the chin, the jawline and the nose. The implants primary use is to help balance asymmetry of the facial features, to accentuate a feature like the cheekbone, reconstruct a damaged area of the face or add to a weak jaw line. We have a wide range of nasal implants, with the most common use being on the bridge of the nose to correct defects in the bridge of the nose, namely a bump or undesirable symmetry.
Facial implants are commonly used on patients whose skin has loosed in the facial area or that have an area of the face, like the jaw line, where additional projection is desired. The first step in the procedure is discussing your desired outcome with a qualified surgeon. The surgeon can detail the treatment options and review before and after photographs with you
Our facial implants are made from silicone elastomer, medical grade. They possess a series of different characteristics, such as shape, hardness, color and surface which are the result of years of research with the medical profession, in order to properly meet the clinical or aesthetic requirements of each case.
Facial implant surgery requires very specific implants to be used as each patient will have every different needs. Alpha Health Asia uses the Silimed line of facial implants based on the high quality of the implants, broad assortment of shapes and sizes and proven safety.
A brief overview of our different types of facial implants:
Chin Implant- these are designed to correct micrognathia and provide lateral expansion of the chin and come in a round-shaped or anatomical shaped
Malar Implant-these implants are available in a standard and anatomical shape to provide the ideal outcome. The implant is meant to correct facial malformation or for aesthetic improvement of the malar region.
Implant for Nasal Dorsum-Designed to increase the nasal dorsum slightly, this implants features the form of a round-tipped tongue.
Nasal Implant -Designed for aesthetic or reconstructive alterations to Asian nose, this comes in two different consistencies of silicone, more rigid in the dorsum and totally radiopaque and trimmable as needed.
The breast and body contouring implants are made with a high-performance Biodesign silicone gel or elastomer to the necessary consistency and resistance for the region of the body where it will be implanted. We have a full assortment of shapes, profiles, projections and sizes to meet your individual needs.
---
---
---